Complete solutions supply to connect your housings and buildings, sales strategy development, a positioning oriented toward social landlords and a lot of projects  involved with other players : 2020 promise to be a enriching for OGGA.
A year which all the team really looks forward to by setting high objectives.
This is the occasion for Stéphane Gagnat, co-founder and DG of OGGA, to share his vision of challenges the company will take up as well as the "smart" field that struggles to develop...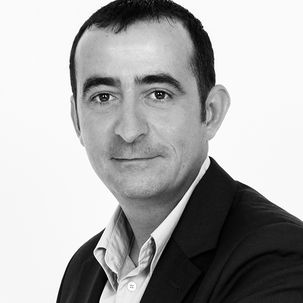 What's your opinion on 2019 year for OGGA ?
     Stéphane Gagnat : This fifth year of existence for OGGA was really important because it was the year of our self-assertion. We assured our offer on connected solutions regarding housings, building and even connected boiler room and VMC. We really confirmed the assets and maturity of our solutions by focusing our communication toward social landlords to whom we offer custom-made solutions, which is unique on the market.
Today, we have really positive feedbacks from 3 to 4 years old buildings we equipped. And now big players in the estate field really trust us and contract massive implementation of OGGA's solutions in their real estate. An other proof of our positioning we have today : we won this year's prize for "Energie" at the Start-up pitch Day in the Festival International du Logement (International Festival for Housing) organized by Vilogia. Finally, we are building our commercial team with the arrival of Murielle Mavounzi who is going to help us aim for North of France and Ile-de-France : regions with very high potential.
2020 : Big projects, financial balance and codevelopment with social landlords
Does this dynamic translates into your commercial plans?
     Stéphane Gagnat : Yes, for 2020, our order book is already four times bigger than 2019's ! We have indeed won a very large market share with a big social landlord player from the parisian region. We will communicate about it in March, but this project and other projects we already contracted are what brought us to a financial balance.
But this is only the beginning ! Our solutions prove to be viable and duplicable, which is very interesting for us because social landlords have a tendency to listen to word of mouth between them. In addition, we are exploring other options to develop OGGA : we are going to organize a fundraising to accelerate even more our development. Many players already pronounced their interest in joining OGGA's capital. This is one of our major challenge for 2020.
Speaking of that, what are you aiming for in 2020 ?
     Stéphane Gagnat : We won't give up the property developer field, but we will accelerate our codevelopment policy with social landlords. We are already working with Grand Lyon Habitat, Immobilière Rhône-Alpes, Alliade Habitat, ICF Habitat (SNCF branch), Batigère, Finistère Habitat, Est Métropole Habitat, La fondation Aralis, Actis or Habitat BVS : and we want to go further !
For some, we are offering a light management of their buildings by developing a monitoring and piloting platform to manage housings consumption. Moreover, we organize formations, we create pedagogical tools towards tenants and for others we even support them with our R&D staff to reduce their energy expenses and greenhouse gas emission.
Among important events to come, we are also going to develop a new version of our Eco-Touch solution which will make it upgradable. And our product will now be 100% Made in France. It's a very important matter for OGGA.
" We have a solution to reduce this huge energy waste "
On a larger scale, where is the connected market at in France ?
     Stéphane Gagnat : Globally, the connected market isn't really skyrocketing because for me, it's yet too gadget. The smart solutions offered today, especially in the property business, have a very limited interest because these solutions always need programming. This is home automation and it really doesn't makes your life easier. For that matter, we see in surveys that the french population doesn't want to buy home automation solutions yet. 
For me, in the connected offer, the interesting axis is energy efficiency : the technology which makes your housing consume less. With the global warming and ressources running out, this is a real societal tendency and an important awareness about the future of our planet.
Do you think that "useful smart" and energy efficiency will pass within the legislative framework ?
     Stéphane Gagnat : There are already great supports from the government. But I don't think that's the only solution. In my opinion, what's going to change the market and the players is the awareness about the fact that today we have the solutions to reduce this huge energy waste. Of course there are many supports to help social landlords install energy effiency solutions in an economical way. But this movement has to be deeper and more voluntarist. For me, housings shouldn't be built or renovated without an energy consumption optimizing system. 
With easy and proven technology like ours, which guides tenants in their daily usage : we allow them to do 20 to 30% savings on their consumption bill ! If we considered equipping 4 million social housings, we realize how much energy we could save ! At OGGA, we have a way of making it possible but we have to do it together. We take part in the SBA (Smart Building Alliance) which promotes this logic of interoperability and protocols opening : the key to make a smart building usable by many player to make it energy efficient.
" At OGGA, we have a constant benevolence toward our clients and final users "
You want your clients and partners to join you in this realization ?
     Stéphane Gagnat : They already do. When it's not the management, the employees are expressing this will. They are embarassed to see windows opened in winter in their buildings because people can't regulate right their heating system. It's unacceptable because there are easy and reachable solutions to remove these issues.
So we come back to this problematic : the more incentive there'll be from the government (taxes reduction, property tax relief), the more they'll move toward these solutions.
Even at the end of January, it is possible to send greetings !
     Stéphane Gagnat : Yes, i will adress them to every member of the team by wishing them the biggest success from the personal to the professional life. It is very pleasing to see OGGA developing it's common values : Humane and ecology. We have a constant benevolence toward our clients and final users. Everyone feels like they are being useful and they don't just make gadgets. We are searching everyday for a better solution and make people do greater energy savings. That's what drives us everyday !