The Shift Project think-tank has implemented a Plan for the Transformation of the French Economy (PTEF) by analysing our essential activities (housing, transport, health, food industries...). According to the think-tank, the current economic and environmental challenges are a unique opportunity to put resilience and climate issues at the heart of the multisectoral transition effort aimed at decarbonisation. In terms of energy, the think-tank sets out the following thoughts: 
THE TRANSFORMATION OF THE ENERGY SYSTEM MUST BE PLANNED IN ADVANCE
In order to set an entire economy on the path of an effective transition, the ways to transform primary energy into final energy must be clearly determined. For example, there is a time lag of (at least) 15 years between the decision to launch a new nuclear power program and the start of the reactor.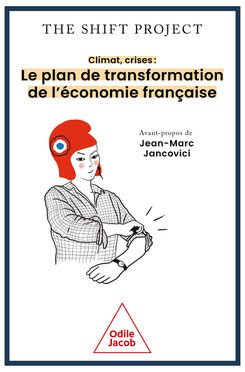 THE SUPPLY OF NON-FOSSIL LIQUID AND GASEOUS FUELS IS LIKELY TO BE VERY LIMITED
Our gas and oil consumption could be replaced by transformed biomass (agricultural products and residues, wood, or organic waste) but the entire French arable land and forest area would not be sufficient. Moreover, replacing oil and gas with their synthetic substitutes would delay the transition. While talking about this "critical" aspect, the Shift Project reminds us of individual and collective consciousness. The key word is sobriety, and drastic sobriety in consumption patterns, transport and so on. It also stresses that regulations and technologies must be put at the service of energy efficiency.  
THE FUTURE IS ELECTRIC
If electricity consumption increases by 20% between now and 2050, our electrical power system will have to change significantly and fast. By the same date, nuclear power and hydroelectric dams will only be able to meet 65% of our needs. A renewable energy policy (wind and solar photovoltaics power plants) must therefore be considered to restrict external energy supplies.
THE REFLECTION GROUP'S PROPOSALS :
Deployment of two large networks of charging stations: a "slow" one for the daily needs of individuals and companies and a "fast" one for the main transport routes;
› Replacement of gas-powered equipment and supplies with electric solutions;
› Support policies for low-income households to facilitate the purchase of electric vehicles;
› Biomass heating systems in the residential housing and the tertiary sector;
› Development of hydrogen powered aircrafts;
› Maintaining a minimum supply of liquid fuels (including fossil fuels) to ensure the strategic stock (army, hospitals...)
---
Sources : 
- All of the Shift Project's recommendations can be found at the following url  : https://theshiftproject.org/  
- The Shift Project, Climat, crises. Le plan de transformation de l'économie française Avant-propos de Jean-Marc Jancovici, Odile Jacob, février 2022.